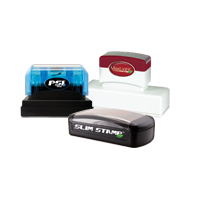 So you just became a Notary, or maybe you've been in the notary game for ten years and decided that one of your old Virginia notary stamps has finally bitten the dust. It might be a good time to purchase new Virginia Notary stamps – but what shape? Rectangular or Round? In my experience it was always just a matter of personal choice. I've had a difficult time trying to distinguish if one is more viable than the other. I can say that a larger majority of Notaries tend to go with the round seal. The two products pictured to the right are pre-inked Slim Stamps. They only have to be inked every so often depending on how often you use them. In regards to Virginia Notary Stamps, Slim stamps are the easiest to hide/conceal and carry and lot of people prefer the compact size. However, some people have made it clear that it's easy to misplace them or lose them in-between the seats of a car. Everyone in the Virginia Notary game understands that losing your Virginia Notary Stamps can be a costly mistake. I offer this particular product because it is designed well and for many individuals it is a great fit.
If you decide that this stamp is the right choice for you, simply click the link you'll be directed to a simple webpage designed to make online purchasing simple and headache free. We understand that time is important and will strive to satisfy you as a customer. We sell the best Virginia Notary Stamps and Virginia Notary Seals and Notary Supplies. We are based out of Richmond, Virginia and have been manufacturing custom rubber stamps, Virginia notary stamps and seals since 1891…. "The House of Good Impressions".
Do You Have a Need for Pre-Inked Stamps?
Call Us! – 804.234.4990